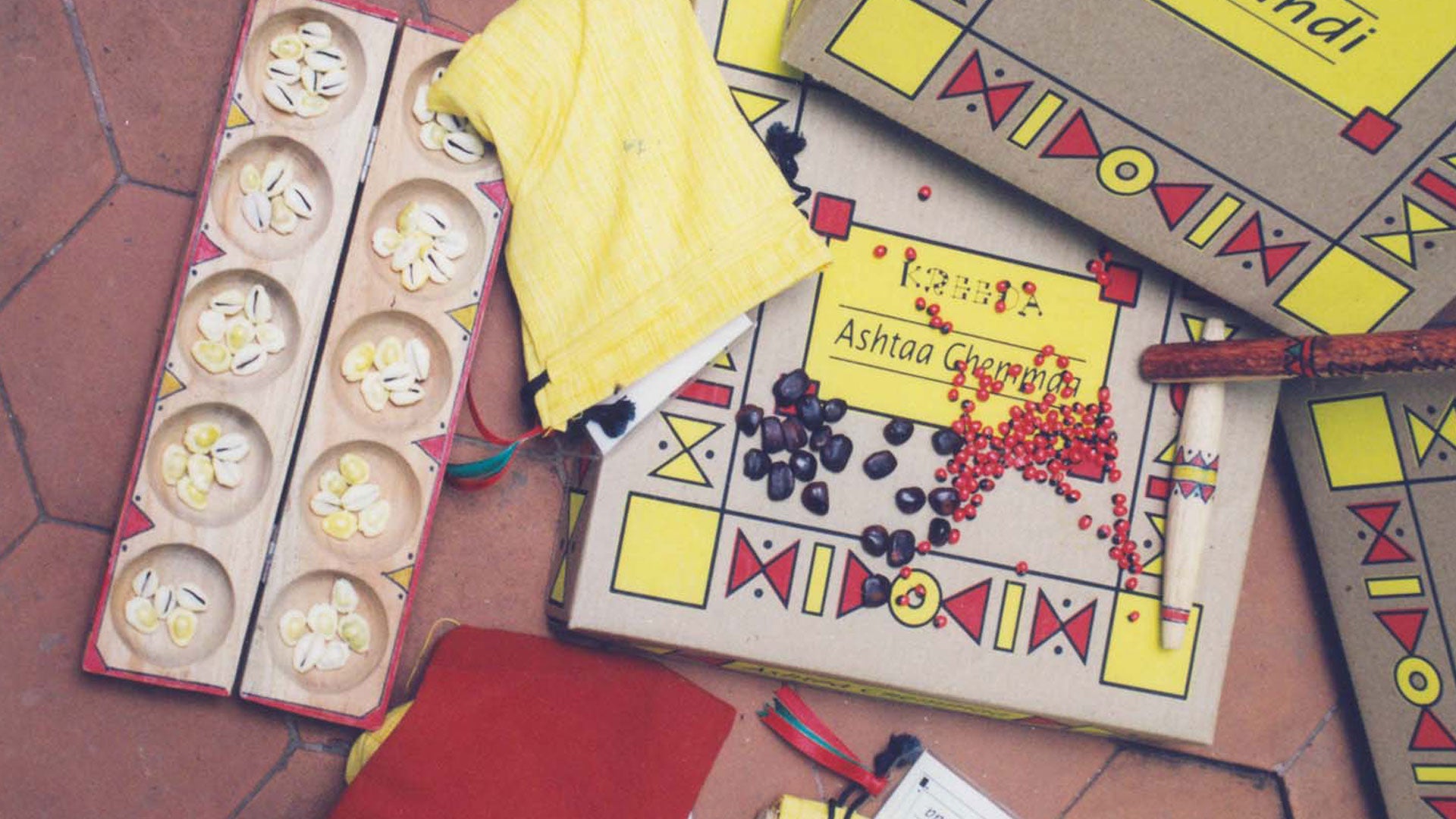 When I first started Kreeda and told people that I was researching traditional games, the inevitable answer would be "Traditional what…?" Most people were surprised that were so many traditional games from India and those who knew a few of them had no understanding of the depth and range of games and the importance of India's contribution to the world of games.
It is sad but true, that today when we talk about games and gaming, the first response is related to electronic games. This is not to take away from the role that these games play in our lives. In particular they have been responsible for a surge of interest in game design and development and as a corollary board games are becoming popular once more.
Traditionally people played not just children, but people.  Whole families congregating in the evening. Aunts , uncles, grandparents, children playing together as a way to pass the time, a space to bond with each other and perhaps a place to build some family values inculcated in the games we played. For most games represent a slice of life and that's what adds to their charm and what makes them so enjoyable – the universal element that many of these games represent. That's what allows these games to cut across age, background and culture allowing diverse people to play together and enjoy them.
Kreeda itself saw its roots when my grandmother spent hours playing old games with my children keeping them entertained while I was at work. The ability of these games to bridge this 80-year age gap fascinated me. It got me thinking, seeking more and more of these games. At first it was mere curiosity leading to a series of articles. The response was staggering. People wanted to know more about these games, wanted their rules wanted their details and thus Kreeda was born.
Typically, when you talk of traditional games, three or four spring to mind. The best known is perhaps dice game of Chaupad or Dayakattam as it is called in Tamilnadu and the precursor to the popular western game of Ludo. It is perhaps the most popular of Indian games known by so many names and cutting across the whole country keeping its essence in spite of variations in boards, rules, throw pieces and games pieces. But there are many more games. Board games of all kinds appealing to every taste, games of strategy, three in a row games, race games…
In addition to these, is a wide range of folk games played with material all around, a testament to the creative impulse of people. They conceived games, exciting and absorbing games with nothing more than seeds, broken bangles, shells and many more.
When I started Kreeda it was just about the games, their rules and bringing them back into play. Fourteen years down the line rather than feeling like an expert I still feel overwhelmed by all there is to know, all there is to find out and all there is to understand about our traditional games.
Over the years, Kreeda has researched the impact of games on our lives, on society, on our community, learning and understanding how these games are relevant in developing motor skills and sensory skills, understanding counting and maths and the lessons we can learn from them , on leadership, teamwork, decision making, goal setting and so much more. The list seems endless. And the more I study games it seems that there is so much more to learn.
There has been a growing interest in traditional games. Today when I talk about research in traditional games, they understand that there probably is a lot to know on too on the subject. But that apart a knowledge levels have not changed much.
A late nineteenth century book on traditional games. echoes the same sentiment. " 'I hereby describe the organization, structure and rules of this ancient shastra (games), the reason being that there is no such book available and the scholars do not study them. In this book there is a description of several board games, the intention of this shastra being that people will enhance theirbrain power by playing them."
He goes on to conclude the book thus: 'I have described in this book many wonderful games and the ways to play them. I do not claim this to be exhaustive, there are several games of various types played in the world and it is physically impossible to compile all of them, I have done my best to compile the most important of my time. …."
Hundreds of years later, I still believe that what we know about traditional is but the tip of the iceberg. This blog is a journey to share all that we know about games and understand all that is left to be learned. It's an opportunity for me to interact with so many people who are fascinated by the subject and perhaps even unknowingly through childhood memories have so much to share. Follow me on this journey of discovery to understand more about these traditional games, for without the support of everyone one of you, in spite of Kreeda's efforts these games run the risk of being lost in the mists of time.
0 Comments
---